Toc H is the most well known school in Kerala situated in Cochin, "the Queen of the Arabian Sea. Cochin is the business capital of modern Kerala and Toc H, a light in the city of Cochin.
The Toc H Public School opened its doors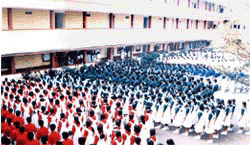 for the first time in 1978. The school is sponsored by the Toc H Society and administered by the Board of Directors. This Society is registered as a charitable Society under the Act of 1955. Toc H is an International Christian Social Service Organization having its origins at Popperinge in Belgium during the First World War. It is at present, a worldwide organization with branches in many countries. "Services is the rent we pay for our room on earth" is the motto of Toc H International.
A humble origin in 1978 with 32 students, in a rental building, Toc H now stands like the colossus, with 1782 students, housed in an imposing building with water frontage. The school is affiliated to the Central Board of Secondary Education, New Delhi, for AISSE (Grade 10) and AISSCE (Grade 12) examination. Academic excellence coupled with all-round developments of the child is the goal of Toc H. The entire activity of the school is geared to meet this goal.